| | |
| --- | --- |
| | |
Wall Street Journal
NY REGION
August 5, 2012, 9:32 p.m. ET
End Nears for 'Highway to Nowhere'
By JOSEPH DE AVILA

NEW HAVEN, Conn.—It was infamously dubbed a "highway to nowhere" and ridiculed as one of the worst urban-planning bungles in the region's history. Decades later, officials are hoping to correct that mistake: moving ahead with a plan to raze a stretch of highway that sealed off this city's downtown—and led to a parking garage.

The city's Board of Aldermen is expected Monday to approve a proposal to remove a mile-long section of Route 34 known as the Oak Street Connector. The effort would free up about 10 acres of land to be redeveloped for medical research facilities with an eye toward residential and retail projects in the future.

But perhaps more important to some, the effort would open up access to an area near the Long Island Sound that has been cloistered off from the rest of the city by a six-lane highway since the 1950s.

"We hated the highway installation," said Mayor John DeStefano, a lifelong New Haven resident. "As it knits together, it will create a great dynamic."

City planners and state officials devised the original plan during a period when cities were shunning public transportation in favor of a car-friendly culture. In New York, master planner Robert Moses's helped shape the suburbs of Long Island while running busy highways through dense urban neighborhoods.

"Like in all American cities, the idea was that you would have highways connecting everywhere, basically," said Norman Garrick of the University of Connecticut's Center for Transportation and Livable Systems.

In New Haven, Route 34 was intended to be a major highway linking the city to nearby towns in the Lower Naugatuck Valley. Hundreds of businesses and families were evicted for the project. But work stopped in the 1970s. A parking garage was eventually built in its path, ending any chance to complete it. A lack of funds impeded any effort to correct the problem, and the route continued as a local road.

The highway also separated downtown from the nearest Amtrak and Metro-North station, meaning a long, lonely walk for commuters to downtown.

The first phase of the new project would include a $100 million biomedical facility built by Winstanley Enterprises, a Concord, Mass.-based developer. About $32 million in federal, state and city money would go toward infrastructure for the project, which could break ground next summer.

Supporters believe the project would reconnect downtown with the medical district to the southwest anchored by the Yale School of Medicine and the neighboring residential area known as the Hill.

Critics, however, think the proposal still doesn't do enough to accommodate bikers and pedestrians. Anstress Farwell, president of the planning and advocacy group New Haven Urban Design League, said plans for wide streets and intersections were "antiquated."

"I certainly think this can be done better," Ms. Farwell said.

Douglas Hausladen, a New Haven alderman who represents downtown, said the proposal is imperfect but puts the city in the right direction. "It's going to transform downtown New Haven and undo the urban-planning wrongs of 50 years ago," Mr. Hausladen said. "That doesn't mean we didn't miss a landmark opportunity to make it better."

Mr. DeStefano said that the final designs of the project are still in the works, and that "there will be chances to do more in future phases."

After the highway is removed, the remaining land will be divided up into four parcels for future development. Two new streets will run to the north and south of the development parcels. Intersecting streets that were cut off by the highway will also be reconnected.

Winstanley Enterprises signed drug maker Alexion Pharmaceuticals Inc., originally founded in New Haven, as an anchor tenant in what will be Downtown Crossing's first building. Yale will also take space in that facility.

"You have a world-class medical school and a first rate hospital across the street that is collaborating with biotech start-ups," said Carter Winstanley of Winstanley Enterprises. "You want to bring those three entities in as close proximity as possible."

The facility also includes plans for a parking garage with more than 800 spaces, which has drawn criticism for its size. "If you plan a city on new cars coming into the city, there is no space for anything else," said Mr. Garrick of UConn. "It's still a more car-oriented philosophy."City officials said that additional parking is needed to accommodate future growth in the area, including the arrival of Gateway Community College.

Some residents, including Dawn Gibson-Brehon from the Hill neighborhood, said there are reasons for optimism and some for concern. Downtown Crossing is a "great project and great for the local economy," she said.

But she said she is worried about parking and increased traffic. "I would love to live in an area where me and the family can easily walk downtown and enjoy the city," Ms. Gibson-Brehon said. "I wonder how long it will take to fully realize that."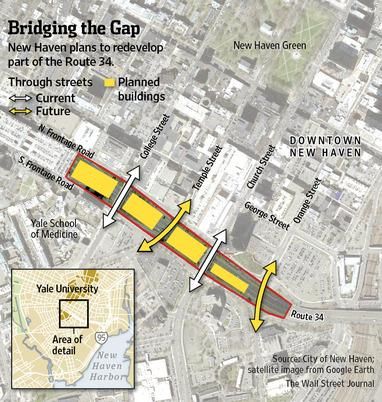 A version of this article appeared August 6, 2012, on page A15 in the U.S. edition of The Wall Street Journal, with the headline: End Nears for 'Highway to Nowhere'.